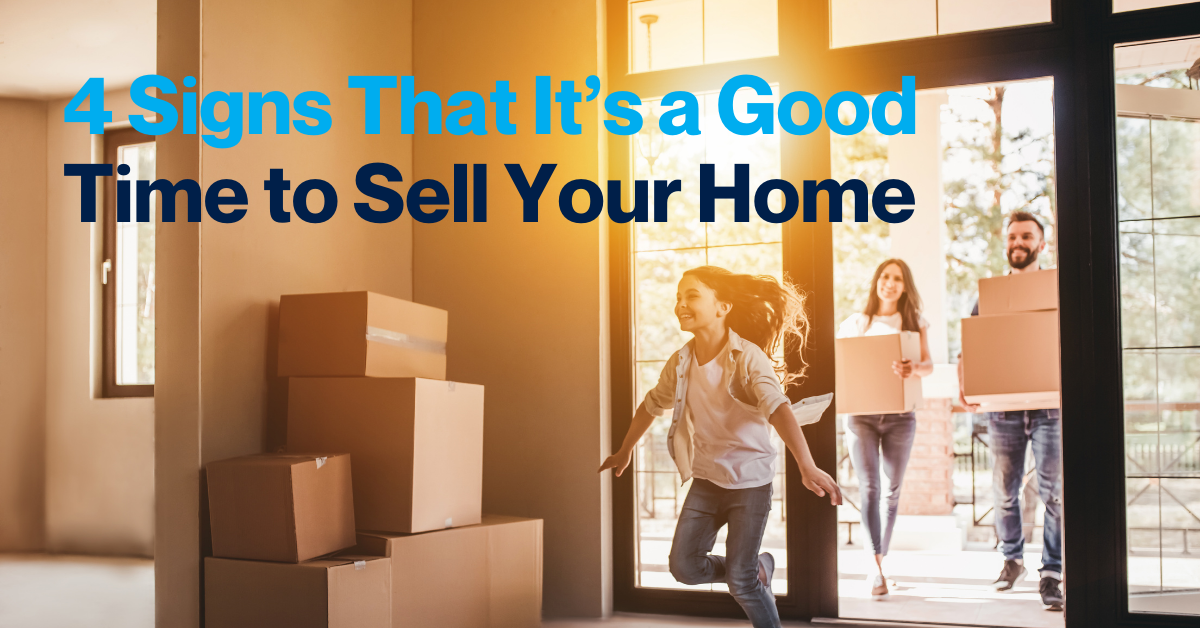 26 Nov

4 Signs That It's a Good Time to Sell Your Home

You might already know that you're ready for a new home, but it is understandable that before you take the plunge, you want to make sure that you'll get top dollar and be financially secure for your next step. Here are four signs that there's no time like the present to put your home on the market:

You have some equity in your home.

The most important sign is that you have enough equity in your home. Your equity is the value of your home minus any home loans. The more equity you have, the better. If you owe $650,000 on your loan and your home is worth $850,000, you have $200,000 equity in your home. Determining your equity can take a bit of work, so I highly recommend calling a real estate agent to get an up-to-date market analysis on your home and to look at your most recent mortgage statement to see how much you owe.

You Know You're in a Strong Market

You'll want to list your home when buyers in your area are looking. If you list your home when there's more demand, you'll have a better chance of getting the best price possible. The property market in Auckland currently has proven not only to be resilient throughout the various challenges but also thriving. Demand remains strong across all sectors of the market, yet supply is still low. Keep in mind that once you sell, you'll probably be a buyer too.

Interest Rates

Low-interest rates indicate a good time for selling your home. Low-interest rates will allow you a great chance of obtaining a new mortgage as well as entice buyers to your property. Interest rates in New Zealand are expected to remain low for the foreseeable future with some economists predicting another fall in rates about April next year.

Your home no longer matches your life.

If your home is causing you stress rather than comfort, then this is another vital sign that you need change. This can be caused by cramped living spaces, which is usually caused by growing families. Or, if you're an empty nester, your house may be too big now and requires too much upkeep. It could also be that your home is in an inconvenient location and too far from friends and family. Whatever your situation, if your home and neighborhood no longer fit your needs, the time is probably right to sell and find a location that's better for your lifestyle.

Selling your home can be a daunting process, especially if it's your first time. However, by doing a thorough research and taking the right steps, you'll have your home sold in no time! Please feel free to get in touch with me if you have any questions or concerns with your property.