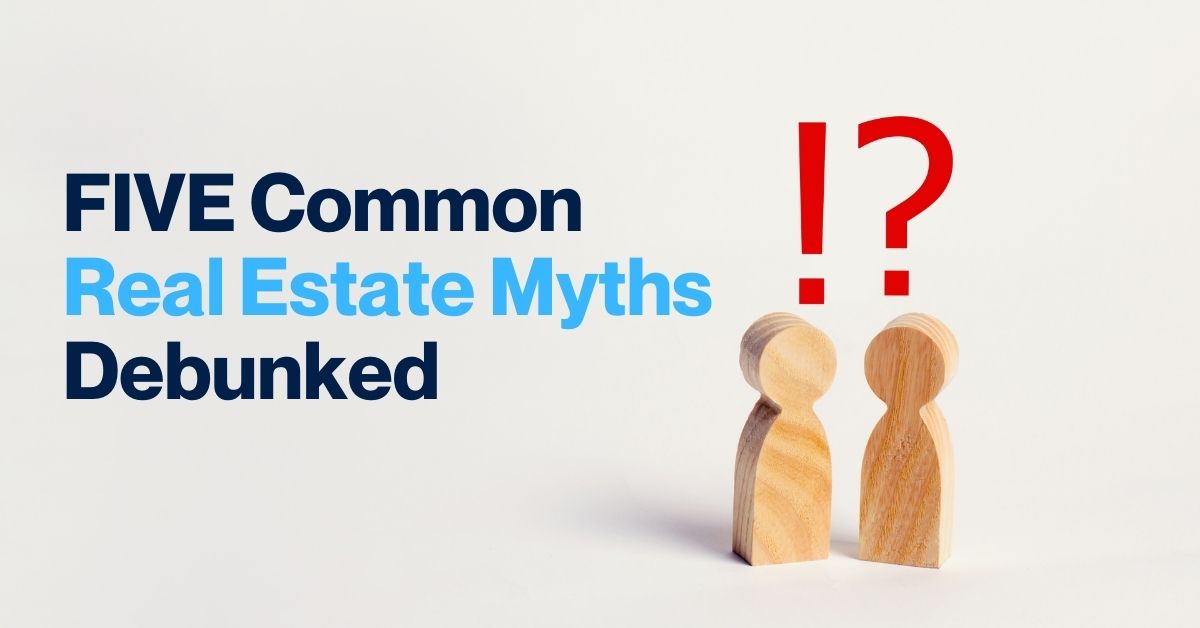 23 Sep

Five Common Real Estate Myths Debunked

Real estate myths are all too common; however, they can be "debunked" with a proper explanation. It can be a surprise to some people when they start the home buying process and learn that the process is not what they thought it was, whether for the good or the bad. I know you're asking yourself, what myths could possibly exist in real estate? So here are some common real estate myths – busted!

Myth #1 Selling your home privately will save you money
Unfortunately, many first-time sellers believe that selling privately is the best way to save money. Although this may be true to an extent, having a real estate professional on your side to help you sell your home is invaluable. In reality, private sellers often run the risk of losing money. For example, private sellers can price the home too high, meaning it could take months to receive an offer, or, on the flip side, they could price the home too low.
When you hire an agent, they'll not only know how to price your home correctly but also how to help you negotiate the most favourable offers. Agents, especially at a company like Harcourts Cooper & Co, have access to a wide network with over 300 agents and can connect you with serious buyers more quickly. Selling a home is a massive undertaking and can be a full-time job. If you're considering selling your house privately, ask yourself: is it worth the stress and time?

Myth #2: All real estate agents are the same
All real estate agents have very different personalities, and we each come with our own unique set of skills, specialties, and experience levels. Some agents work in teams, whereas others are a one-stop shop for all your real estate needs. Whether you're buying or selling, it's essential to pick the agent that's right for you. They will be representing you during one of the most significant transactions in your life. It's key to choose an agent that's a good fit—someone that you like, trust, and that you believe will have your best interests in mind.
Need help choosing the right agent for you? Check out my previous blog for tips on finding the right real estate agent for you.

Myth #3: Skip the buyer's agent and go straight to the internet
While home buyers can indeed find listings online, they may be better off working with a buyer's agent instead. Buyer's agents do more than show you what's for sale. They also give the lowdown on comparables in the market, provide guidance through the negotiation phase, give you access to all the latest listings, and help you find homes that meet your budget and needs. It's always a smart idea to have an experienced professional on your side – plus it's a free service!

Myth #4: A home doesn't need to be prepared for sale
Properly preparing your home for the market can be the difference between it selling fast or sitting on the market without interest. Today's buyers are often looking for move-in ready homes. If a home is prepared properly, it will garner more interest. Simple preparations such as staging, a simple clean and minor improvements can all assist with the time the home spends on the market. A well-presented home may, in fact, lead to a higher sale price.

Myth #5: Agents just want to make a sale
Agents have a fiduciary responsibility to their clients and, legally, must represent them to the best of their ability. Our top priority is customer service, and we want to ensure we have an excellent reputation with our clients and within our community. While our ultimate goal is to help you buy or sell a house, we're about more than making a commission or turning a "For Sale" sign into a "Sold" sign. We love it when clients become friends or when we can stay in touch and hear how they're enjoying their new home. At the end of the day, we're people helping other people make a well-informed, life-changing decision.